As a web shop owner you like to make your shop as popular and successful as possible. If you like to take your business to the next level, you should take a look at the Google Commerce Search. This hosted e-commerce search solution will allow your customers to have a much more pleasant and better shopping experience. The easier your e-commerce website for your customers, the better the chances are that they will buy your product and maybe will become a loyal customer.


Why Google Commerce Search?
Google Commerce Search is a scalable hosted e-commerce search solution. Using this Google service it's possible to present your products online with a "special" type of Google site search.
But there is more:
Don't worry about pikes of high traffic, Google Commerce Search will serve results for all your customers.
Your shop data become available in Google Merchant Center and inside the Google Product Search.
Synchronize or upload your data using the Google XML API.
Customize your on-site search engine so that it has the appearance of your website.
Manage all your products via the easy to use administrative console.
Analyze your statistics and use Google Analytics for details you might have never seen before; Follow reports on such items as top queries, special features usage, and much more.
Google Commerce Search makes the product search user-friendly. Provide for your products alternative spelling options or common synonyms. Your customer will see how easy it is to find a product, with the result of a higher conversion rate and a big chance that the customer will buy again.
Promote certain products and add them to related search results. This way you're give more attention to specific products and maybe you can raise the purchase amount as well.
There is no waiting time, after your products are available in the Google Merchant center, they are available inside the search results.
Integrate Google Checkout and create a standalone shopping cart system (option)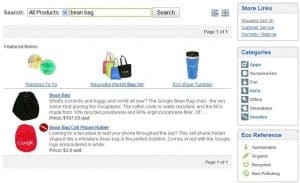 Is my old shop or website not needed anymore?
Sure of course not! The checkout process and all detailed product information stays on your current website. Even if you use Google Checkout as payment solution you should use your own website for detailed product information and reviews. Your main website is the key to get products into the results of the "regular" Google Search engine. Add the search engine form to all pages of your own site for your customers convenience.
Is this a great solution or not?
There is one point which makes this service only attractive for established online shops: The Google Commerce Search is not free, but it is well worth the cost.
Google Commerce Search will help your customers to find what product it is they are looking for quick and easy. They will be able to filter the product results they are looking for according to the price of the product, the brand, the category, or many other ways. This helps to cut down on the chances of your potential customers locating the products on another page first. When people can't find exactly what they are looking for on one page, they will pull up a second page and begin looking at different options. With the help of Google Commerce Search you can avoid this happening to you.
Google Commerce Search is and easy and effective way to handle your online sale. The product search makes everything simple and you don't need to use your own shopping cart software anymore
Promote your products on your website, they way you did before and make more sales using Google Commerce Search!