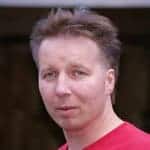 My name is Olaf Lederer and I'm a web developer and web consultant. I am from The Netherlands and have been building websites since 1999. I speak English, German and Dutch, however my primary business website – finalwebsites.nl is written only in Dutch. Since 2002, I have been providing custom scripting, web hosting, domain registrations and web development services. A portfolio of my web programming and design work can be found on my website portfolio page.
I am a PHP web developer and enthusiast and like to share much of the code that I've written on another of my websites – finalwebsites.com. There you will find free open source PHP class scripts, custom PHP functions and code snippets, WordPress plugins, Google SEO tips and much more.
Programmers and non-programmers can find premium web templates on premiumtemplates.website. Don't miss the blog on that site to find helpful tutorials and discount offers.
Web Development Blog, since 2006
The primary focus of this blog is on WordPress, PHP scripts and tutorials that I write but I'm something of an Internet addict and an Ubuntu/Linux fan; so I do talk about a variety of technology-related news and events. I utilize a number of Google webmaster services and talk about those as well. You might also find me participating in a number of webmaster forums and related social media networks. Find links to my profiles behind the buttons in the header from this website.
I invite you to join the conversations here and on my other sites and perhaps together we can learn even more about this great thing called the Internet. Do you like social media? Follow me on or Twitter.
Credits and Partners
I like to mention the following products and services I use for this website:
CloudVPS – One of the best VPS Cloud providers (not only in the Netherlands) and the VPS hosting provider for the sites of my customers and most of my own sites. Get a VPS with 1GB RAM for ~20USD. Enter FINALWEBSITES-FIRST-MONTH-FREE during sign-up and get the first month of hosting for free!
Sendgrid Email Delivery. Simplified. – If you need to send e-mail messages from your website you should try Sendgrid. They offer a free plan (good for 200 mails/day) or get 40K mail messages for free as a customer of Rackspace Cloud Hosting (don't tell!).
MediaLayer – They offer strong and fast shared hosting plans powered by LiteSpeed, Percona (a MySQL fork) and eAccelerator. I've never found a similar setup by other companies. Compared to the prices for "premium" WordPress hosting plans from companies like page.ly is $14.95 for their smallest shared hosting plan a steal! I've used their services for several websites. MediaLayer has closed their business in July 2015!