Tips on Server Configuration, Domain Hosting and File Management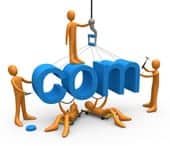 One of the biggest decisions every webmaster must make is what company to use for domain hosting and if a separate online backup service is necessary. But, that's only part of the story. Before deciding where to host, you'll need to decide whether you are going to need a dedicated server, virtual server or shared server for your website(s). My preference is using a virtual server in a cloud and using DirectAdmin for the control panel. Through a series of articles, I will explain why I prefer that configuration, provide tips on setting up your server, offer advice on backing up your files and a discuss variety of other topics related to VPS and cloud hosting.
Latest blog posts related to Web Hosting
During the last 2 years I had some problems with this blog because of massive comment spam. I tried different ways to handle this unwanted traffic, but at the end I needed to host my website on a stronger...
Installing a web server for a production environment, with Ubuntu as operating system, is not too difficult because most of the required packages don't need a lot of configurations. In this tutorial we...
A few month ago I wrote an article/review about online backup services, in this comparison I mentioned that my favorite is the online backup service SpiderOak. These days I tried to synchronize the data...
DirectAdmin offers some great backup which makes it possible to create a backup file for each user or hosting account. The control panel has backup functions for the different access levels: Admin...
There are thousands of hosting companies on the Internet and maybe this article will help you to start your own. Many companies offering web services are hosting reseller of other (bigger) companies or...
For those people spending a lot of time behind a laptop or desktop PC, some safe backup storage becomes very important. Until a few few weeks ago, I created every night an incremental backup for my files...
Selected Web Hosting resources
Smarter web hosting – WebFaction
If shared web hosting is okay for your website's requirements, we advice this company. They offer strong and fast hosting with features you didn't find by many other providers: SSH access, MySQL and PostgreSQL on the same server, Rails, daily backups and many other features.
VPS.NET Virtual Private Servers
This VPS hosting provider offers a newer hosting solution called cloud hosting. Cloud hosting allows customers to easily scale and customize a hosting plan so you pay for what you use and when you use it. With all the benefits of a dedicated server and a much lower price, VPS.NET is the next generation of web hosting. Great provider!
Dynadot Domain Name Registration
Dynadot is an ICANN accredited domain name registrar and web host located in San Mateo, California. They offer the most common domain tlds for a fair price. They offer also SSL certificates, these certificates allow you to encrypt the data between your customer's browser and your web server. They have an easy to use (and fast) control panel and the support is fast and customer friendly.