Website Monitoring Services: Reviews and Facts
There are so many possibilities why a website went off-line, all of them have one in common: Your visitors can't access your site and maybe they will never come back!
Possible problems why a website might be off-line:
Web server or network is down – A very common problem, there is so much computer technology used…
Some web service has stopped working – It might be just one of them; MySQL, Apache or Named/Bind and your website doesn't function for 100%
Too much traffic on your site – Most web servers doesn't have the capacity for a high traffic website. 500 visitors at the same time might be enough to make your site slow or that a web server crashes.
External serving problems; a name server or DNS server is down – this one is nasty; if your DNS zone is down, it's possible that you see the problem a day later, while others see that your site is down since a while.
A script stopped working properly – If a script is written and tested everything looks fine, but what if you get some external content via RSS or by user input? Sometimes a simple, but not standard, text character can break your website.
At last but not least "the hacker" – there are so many people on the web trying to bring a website down.
Even if you try to do anything to protect your website or application against all the trouble above, you're not safe for a failure. You have to monitor your website and hopefully a problem is notified fast enough before you loose a lot of visitors.
Some of you will say:
"I don't need to pay for a service, because my hosting provider is doing this for free!"
That's right many good providers will monitor the server you're hosting on and/or they provide tools which will monitor your server or website. If you use them, check if these tests are done by a server outside from the network where your website or server is hosted. If there is a problem in the rack or router where the monitoring server and your website is located, you will never get a message about the down-time.
Some other important feature for international websites, is the ability to do test from different locations around the world. A problem might exist for only people from some continent, if your business has to take care about this, you should know about problems happen far away from your websites location.
Website monitoring is not a protection against failures but the following features will help you to "tackle" problems very fast:
Monitor from different locations – if one fails the bot has to use the next one
Multiple notification options – SMS/text messages and email are required, if you can send a downtime message to more than one person, do this!
Tests for specific content – Just a ping or HTTP header is often not enough, test for specific text on your site
Adjustable values for a timeout – Some websites need more time than others to get loaded.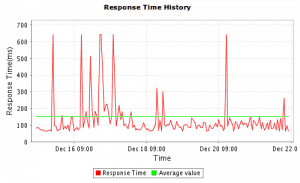 (Screenshot response times Site24x7)
If your website and server is working fine, the number of downtime messages should be very low. If you need to spend several dollars a month for SMS/text messages, it might be useful to spend this money for better hosting. Website monitoring is to get warned if something went wrong.
Website Monitoring Service Provider
In this article we review three website monitoring service provider, all of them offer a great service product and you find them in a lower price segment. That will say, these services are acceptable for most of the websites on the Internet.

I used Site24x7 since they started offering services a few years ago. They offer anything you need to monitor your server or website; Tests on websites or server ports (you can monitor every server port) are only a view options. Visit their website for all the features they offer. They offer a free account and  15day trials for their paid services, if you use the standard or premium service you pay for each single test period  and location. If you need multiple test locations, you should use the premium plan because this plan includes 6 free locations for each test. If you need more than one website tested from multiple locations, than is this provider more expansive than others.

Hyperspin is monitoring provider who offers a lot of features and also a great reseller program. If you're looking for a way to monetize your websites traffic, by offering your own monitoring service, you should try them. All test features are available and they have multiple locations and you can setup four of them as a global setting for all your tests. They don't charge you for using all the locations. They offer discounts if you buy more or if you pay in upfront for a whole year. I stopped using them because their control panel was several times not accessible from my laptop (using different IP addresses).
Pingdom is the current service I'm using to monitor all my websites. Their control panel and website looks very modern and they offering a great plan with five tests for only $9.95/month. They offer e-mail, SMS/text message notifications and a some great integration with Twitter. Multiple test locations are included without any additional charge. I like the fast and clear interface and off course the price. I'm sure I will keep using them the next years.
While most of the features for these three website monitoring service providers are the same, is the pricing very different. I'm sure all three working great, just try them.
Published in: Web Hosting