Online backup services, SpiderOak or better Dropbox?
A few month ago I wrote an article/review about online backup services, in this comparison I mentioned that my favorite is the online backup service SpiderOak. These days I tried to synchronize the data from my laptop with my desktop PC and I'm very disappointed about this feature provided by SpiderOak. While the online backup function worked fine during the last half year, is the sync feature or better the SpiderOak client not so powerful.
I don't wanna blame SpiderOak, they offer a great support! It's just that the service doesn't worked for me as it should…
Too much resources needed
What happened during the synchronization process? I started to setup a few synchronization rules to copy files between both systems and the SpiderOak demon started his work. In the beginning it worked fine and all directories were created on my new PC. While the demon was working, the CPU for the target machine was used permanently for 100% and after a while the demon was using more than 1Gb of memory. With the result that not a single file was copied! Next I tried to download several directories of files from the backup location. Smaller directories with less files went through, but for the bigger file lists it doesn't worked. After a few days the results was too small to continue with this service.


I remembered me why SpiderOak was my first choice, it was because this service was cheaper and I missed some features while checking Dropbox. After I did some research (again) I signed up for a new account and most of all I was surprised about the client which is based on Nautilus the filemanager for the Gnome Desktop.
Dropbox features (not only) for Ubuntu users
As mentioned before the Dropbox client is based on the Nautilus filemanager and the "Dropbox" folder is a directory where all files and directories are getting synchronized. It's possible to use symbolic links for your folders or it's better to place all your data directories into the "Dropbox" folder and create symbolic links for the original locations: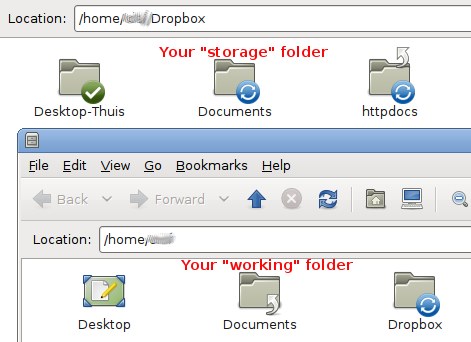 I moved the "Documents" directory from the user's home directory into the Dropbox folder and created instead a symbolic link with the name "Documents" inside the home directory to keep all the internal links. If you work this way it's very easy to synchronize your files between different computers.
Fast and comfortable online @Dropbox
If you backup your data online, it's quite normal that you like to access the files online too. A feature which is at SpiderOak not very comfortable and the site pretty slow. At Dropbox this is different, you get total control about your files and much more:
Event list: With Dropbox you have status updates about the most important events like, how many files are transfered or if you got some free MB because one of your invitations has opened a Dropbox account
Photo gallery: Dropbox provides some "standard" folders, one of them is called "Photos". If you place Photos inside that folder (or sub-folders), you and your friends can view them online via a cool photo gallery. Just send them the link to your photos and they can watch them on their own computer. Your friends doesn't need a Dropbox account to get the access to the photo gallery, but that will not say that your photos are public. Each link is unique and your photos are not indexed (according the Dropbox help section)
Fast and clear file processing
Adding files to your "Dropbox" folder is easy, just move/copy them and if needed create a symbolic link. Each directory or file inside the Dropbox folder gets a symbol, after a file is synchronized with your Dropbox backup account, the file gets a new symbol which indicates that the file is stored. If you click the Dropbox symbol in your status bar you get an idea how many files you need to backup or synchronize.
Full control about your files inside the "Dropbox"
All modifications you do in your "Dropbox" getting processed, it's not a problem to move or delete files and directories. For every computer you use with Dropbox it's possible to configure which files you like download to each system. If you like to upload a directory of photos and keep them online but not on your computer, just un-check the folder within the Dropbox configuration.
How about you?
Sure the Dropbox storage costs more than by Spideroak, you get for ~$10 "only" 50GB of backup space instead of the 100GB from SpiderOak. But Dropbox seems to work much better and the fact that the backup is limited to only ONE local directory, it's much faster to handle backups than using the client from SpiderOak. If you start using Dropbox you get 2GB of backup storage for free, enough for your most important files. Start "dropping" your files and directories today!
You can use Google Drive to sync your files, too. The features of Google Drive are very similar to Dropbox. By using Google Docs, you can edit your documents online. If you're concerned about backups you should read our article about Spanning Backup for Google Apps.
Published in: Web Hosting