Our review of LiveChat the customer service platform
Adding a live chat feature to your website is easier and more cost effective than you might think. And, if your website was built using WordPress, setting everything up can truly be a DIY project that you or a member of your staff can manage.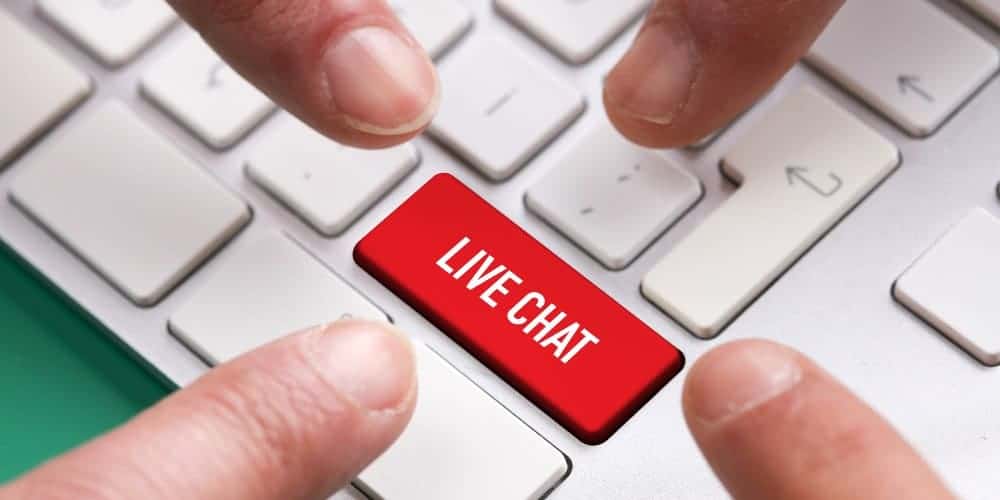 Our LiveChat Review – in under 80 words
LiveChat is a well thought out online customer engagement tool that offers live chat, a ticketing system, help with compiling and building informational articles for your staff and customers, and numerous features to provide a more personal experience for your website visitors and help convert them into customers.
Their licensing concept of 'seats' vs 'agents' makes it an affordable marketing tool for business owners. And, the Team plan provides the best combination of features and price for smaller companies.
LiveChat Online Customer Service Software
Now that we've given you the 100 words or less version of our LiveChat review, let's dig deeper into the specifics of why we love this product so much. It's from the folks at LiveChat Software S.A. They were founded in 2002 and are based in Wroclaw, Poland. They are a publicly traded company with almost 150 employees. Current customers range from huge multi-national companies like McDonald's, Zillow and PayPal to small companies with less than 10 employees.
Like so many of the online customer service programs, LiveChat offers more than the basic capability of chatting with your website visitors. Even their smaller plans include the live support software and built-in ticketing system. Their higher-level plans include even more features and options from built-in attention-getting graphics, to tracking and reporting tools. They also have three great add-ons – ChatBot, Knowledge Base and HelpDesk. They work together with LiveChat to automate answers to simple questions, build a knowledge base for internal and external users as well as provide a complete HelpDesk solution. Customers, who take advantage of all the reporting tools and ad-ons, can use LiveChat to help all of their marketing initiatives including modifying product offerings and their descriptions, building FAQ pages and increasing overall customer satisfaction.
There's also a built-in ticketing system, which automatically replaces chat when no agents are available. A great way for even the smallest of companies to quickly and easily communicate with potential and current customers.
LiveChat Features & Plans
Starter Plan
Key Features
Unlimited agent accounts
24/7/365 phone, chat and email support
Can track up to 100 customers
1 automated greeting
Default eye-catcher graphic
Daily Summaries for each agent (automatically sent to "owners" account and each agent)
LiveChatAPI access
60 day chat history
E-Mail transcripts
You can implement LiveChat for as little as $16 a month, per seat (billed annually or $19 when billed monthly) with their Starter plan.
Team Plan (best choice)
Key Features
Everything in the Starter Plan
Tracking of up to 400 customers
Unlimited automated greetings
Nice selection of pre-made eye-catcher graphics plus the ability to create and utilize your own custom graphics
More reports to track how well your agents are representing your company
More options to customize the front-end interface to match your brand
Unlimited chat history
Groups – assign agents to teams to provide specialized support by product, experience level or by whatever criteria you define
Goals – a great way to track if chats convert to sales or other desired action by the site visitor
Their Team plan is $33 per seat per month (annually) or $39 (monthly). LiveChat recommends this plan for companies with a full-time support team. I would suggest the additional features available with the Team plan make it worth the investment for even the smallest of companies. It's also their least expensive plan that does not limit you to 60 days of chat history.
Business Plan
Key Features
Everything in the Team Plan
Tracking of 1,000 customers
Even more tools to manage your agents including a work scheduler
Detailed agent activity reports
On-demand reporting
Ability to restrict access to your live chat by IP
Their Business plan is designed for larger companies with a dedicated customer service department. It jumps to $50 per seat (billed annually) but, you get a lot more features too.
And, for an additional $20 per seat, you'll be able to integrate with enterprise-grade or cloud SSO solutions.
You can try out their Business plan with a 14-Day Free Trial. And, when they say free, they mean it; you can keep your credit card safely tucked away in your wallet.
Enterprise Plan
While they do provide a features list for the Enterprise Plan, their plan for Fortune 500-sized companies, you have to contact LiveChat to obtain pricing and more specific information. 
LiveChat Pricing – Seats vs Agents vs Accounts
Licensing for online chat programs is set up much the same way you buy phone lines. You choose what features you want and then pay based on the number of lines you need. Most chat providers charge by the agent account. If you want to track each employee's performance, they'll need to have their own agent account. So, if you run your business 24/7/365 with 4 different employees providing chat support, you'll need 4 accounts; even if only one person will be logged in at a time. You'll need 5, if the administrator does not actively support customers.
With LiveChat, you can have as many user accounts or agents as you want. But, concurrent usage is limited by the number of "seats" your subscription covers.  A "seat" is essentially someone logged in and actively using LiveChat.
With their subscription structure, all active logins, whether they are running reports, helping customers or performing maintenance, are "seated."
With LiveChat, you could essentially add every member of the marketing team as an agent; you'll just be limited by your subscription as to how many 'seats' can be used at a time.
We like the idea of the tiered LiveChat pricing for features and users instead of tying the two together. This pricing structure, in my opinion, is more business-friendly. After all, why be forced to purchase features you don't need simply to add more users? And, why pay for more agent accounts than you need simply to gain access to more advanced features? The one downfall with this license is that the owner and/or administrator accounts, even if set to not accept chats, will fill a seat if logged in. But, a smaller company could operate with only one seat. With other similar services, if the administrator was not the person providing the customer service; you would need at least two paid licenses.
Data Storage
LiveChat has an interesting view on data storage. With the exception of the Starter plan and its 60 day chat history, LiveChat will maintain your data until you ask them to delete it. It's a sort of built-in grace period if you should change your mind or the subscription was accidentally stopped. 
Customer data is stored in either the USA or within the EU. Backups are stored in a different state (USA) or country(EU) than the live data. 
European customers' data is protected by the Data Protection Directive and the e-Privacy Directive.
From data encryption, access restrictions, and 2-step verification to GDPR compliance, HIPAA readiness and Privacy Shield Certification; they've got you covered.
Installing LiveChat
LiveChat offers 2 ways to install their software on your website. You can insert a block of code or simply use their WordPress plugin. We like keeping things simple and used the plugin.
LiveChat Usability
For our LiveChat Review, we did all of our testing with the web-based application but agents can also use a desktop or mobile app too.
We like to test tools much the same way we would implement them ourselves. Once we check the pricing, features list and system requirements and decide to proceed,  we only make a quick overview of their manuals, knowledge base and/or help forums. We look to see if the help tools are maintained, active and appear to be of actual use to customers. But, we don't "learn" how to use the application prior to testing and playing with it.
After all, if an experienced web professional has trouble navigating the application, end-users are going to need a lot of training and/or the implementation is going to take longer.
The LiveChat site passed our initial "Do they offer good support?" review with flying colors. We "chatted" with their staff and found they responded quickly and professionally. We didn't get a series of "canned replies" that failed to answer questions. And, we found this Polish company's chat staff to be well-conversant in English and it felt like we were 'speaking' with a native English speaker.
Once activated and turned on from within the WordPress dashboard, LiveChat will serve your site's customers either a chat window or an invitation to create a ticket. There is no way to disable the chat for logged in users, so if you need a break just go "Offline" via the LiveChat portal website.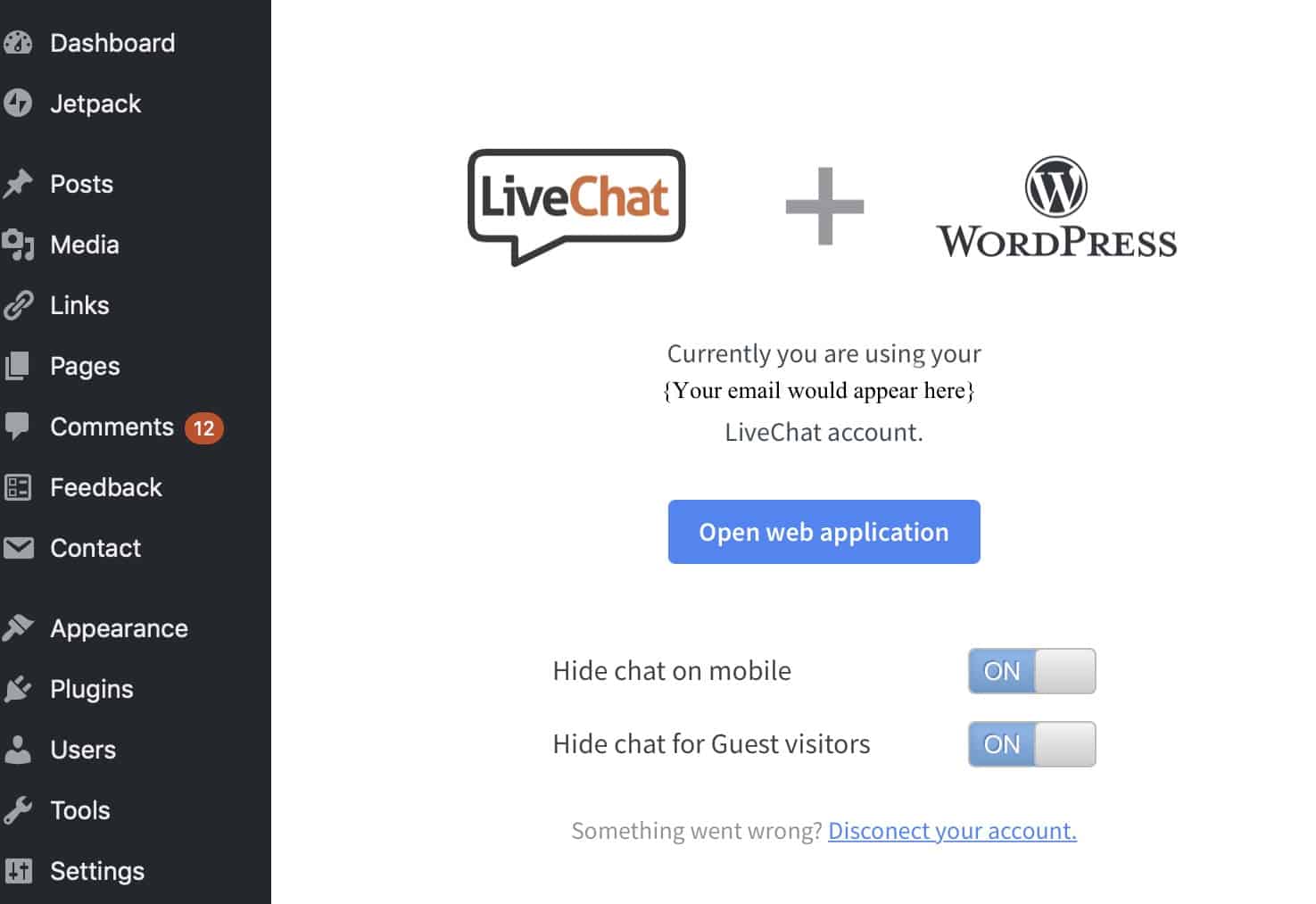 Make sure you change "Hide chat on mobile" and "Hide chat for Guest visitors" to "ON" until you are ready to offer chat to (all) your site visitors.
LiveChat portal website
Agent Apps
Agents can log into LiveChat via the web, LiveChat for Windows, LiveChat for Mac OS X, their iPad, iPhone or Android devices.
We used the web version for all of our testing for our LiveChat review.
Agents
In our testing, we saw how quickly it could become overwhelming if trying work too many conversations at the same time. We recommend that you set the number of chats each agent will be assigned fairly low – at least until everyone gets more comfortable with the program and faster at answering customer questions. LiveChat recommends a maximum of 3 concurrent chats for newbies.
One feature that's both cool and a little worrisome is that agents don't have to rely upon the administrator to add new canned responses. They can create their own. And, with a few mouse clicks they can even create them by selecting something they said in an active chat.
LiveChat configuration
Configuring LiveChat is very straightforward. It would appear they've thought of everything. And, they're still adding even more tools and features!
Chat settings can easily be configured by an owner or administrator. One nice feature is that the preview is right there on the screen. And, their own chatbot is there to help you through setting everything up.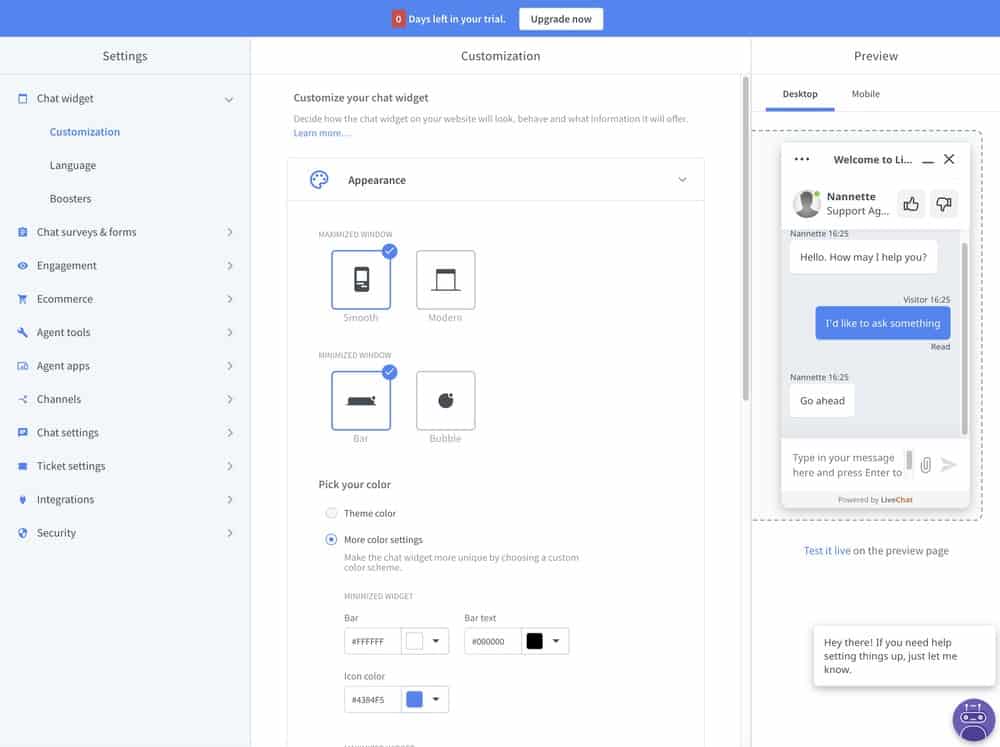 Rather than recreate their entire user's guide here, let's take a look at one of the first things your customers will see – your initial greeting and the pre-chat survey. After all, if you can't entice your prospects to engage with you, all the features in the world won't matter much.
Engagement
Enticing your site visitors to utilize your chat tool begins with a Greeting and Eye-Catcher. Beginning with the Team plan, you gain access to a lot more options than the default settings available in the Starter plan.
Eye-Catcher Graphics
When we were compiling our LiveChat Review, they had 122 built-in eye-catcher graphics. They ran from the simple conversation balloons to Christmas and Halloween-themed graphics. There's a nice variety from simple and clean professional choices to charming and fun graphics that are sure to be noticed. Many of the graphics were also offered in different colors to better match your existing site branding.
According to the folks at LiveChat, customers who use eye-catchers have 52% more chats. And, you can upload your own to personalize and brand them even more.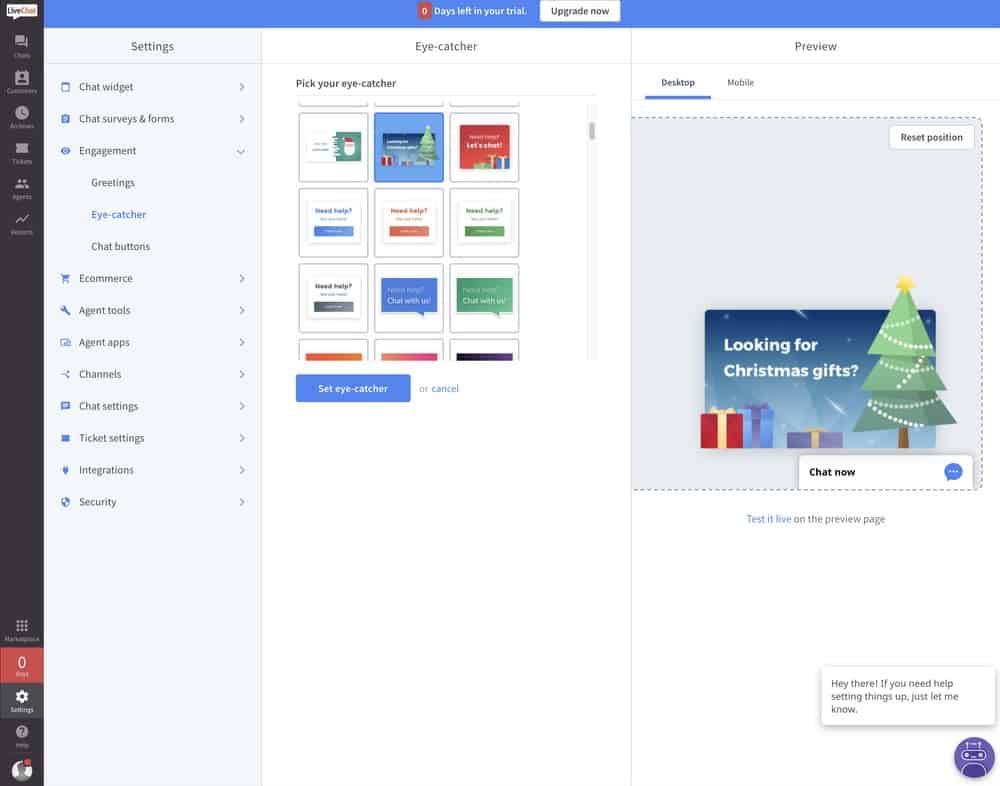 Greetings
The greetings options, at first, appeared a bit overwhelming. But, seeing their pre-installed list is really helpful. It quickly shows how you can customize what greeting is sent.
You can trigger the greeting based upon time, visited pages, referrer, location, visit, by search engine keyword or a custom variable. And, you can combine several into one rule to create very specific messages.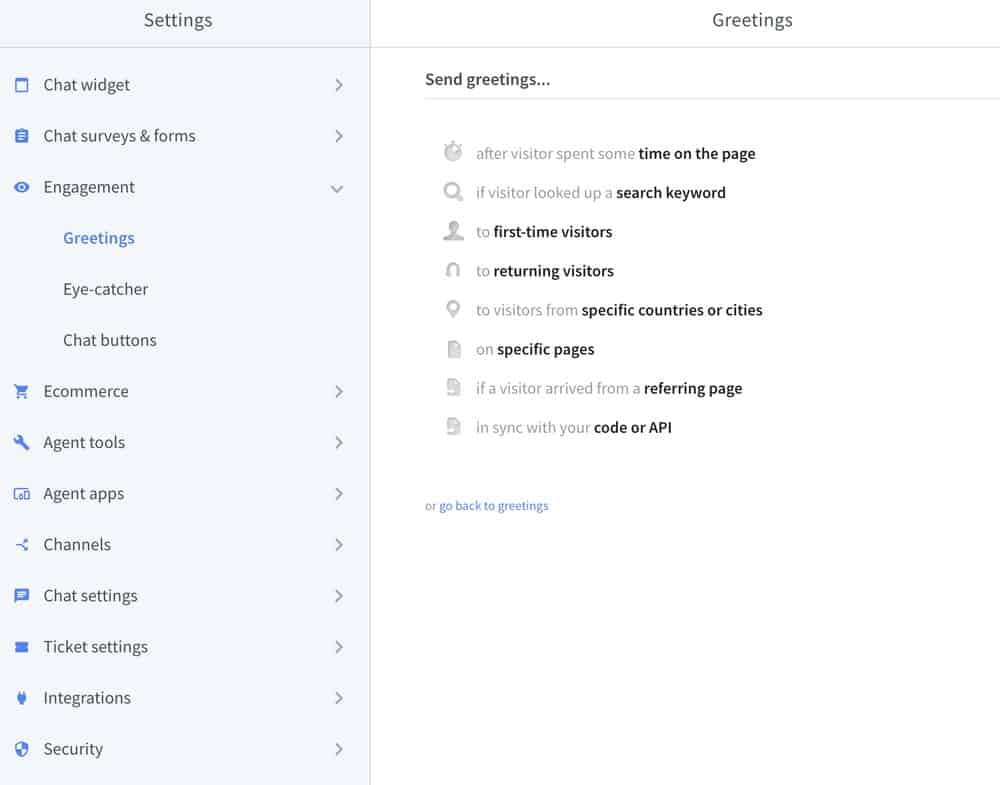 More than just a chat program, LiveChat is a truly powerful tool to gently push potential customers to become buyers on an e-commerce site. In many ways, it acts like a pop-up window and message board.
Think of the possibilities – you could geotarget visitors and add a greeting like, "Hope to see you at our big open house this weekend! We would be glad to answer any of your questions today or in person on Saturday." Visitors, who are likely too far away to attend, could be presented with your regular greeting.
Or, you could invite people to learn more about a particular promotion you are running. You could mention you'll be receiving new products soon and invite the prospect to be placed on a waiting list.
Pre-Chat Survey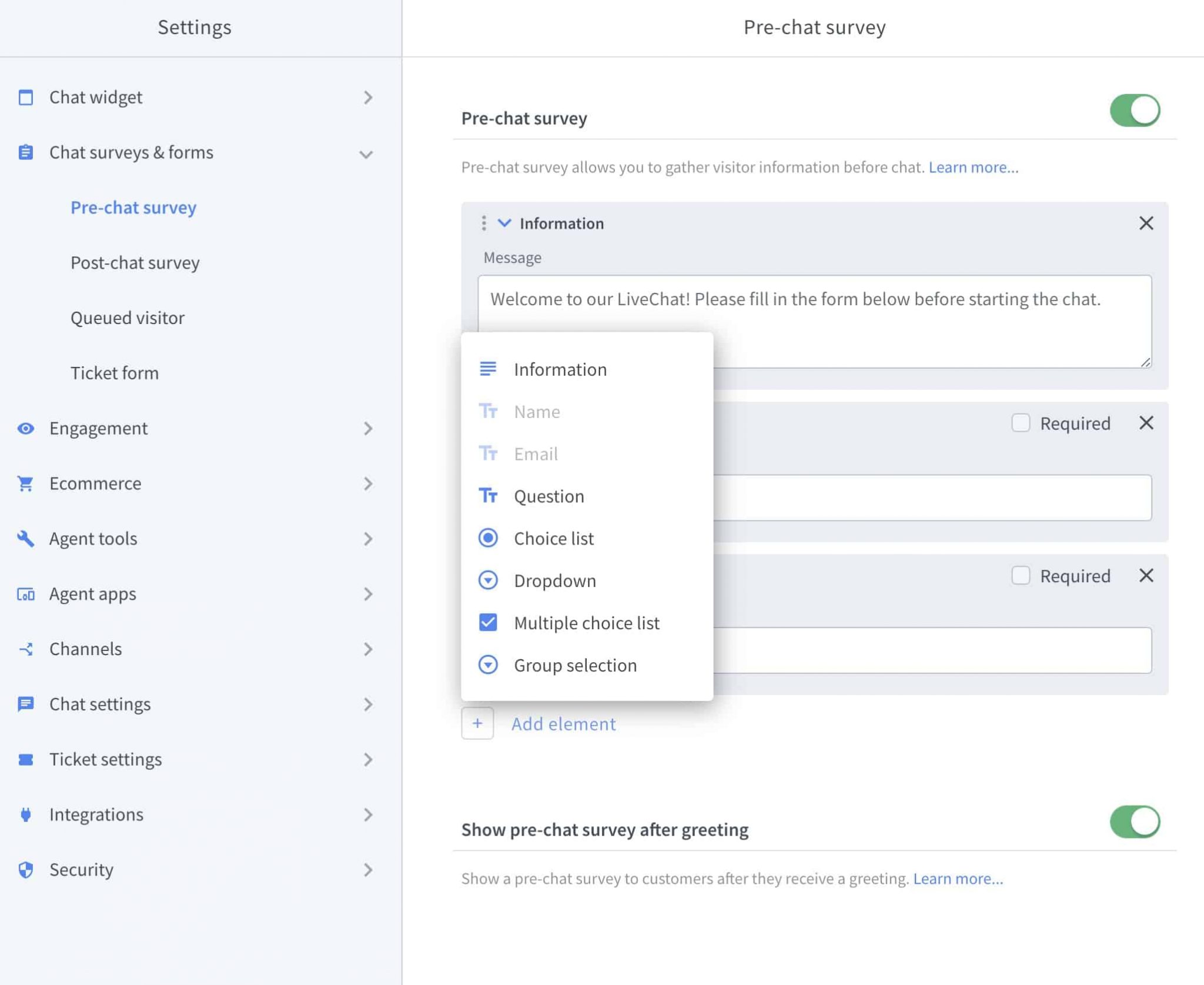 The Pre-chat survey configuration, shown above, is a great example of how easy this software is to use. Granted, it wasn't obvious to me that "Chat surveys & forms" was where I needed to look for the initial greeting, but, configuring it is quick and easy.
You can create your pre-chat survey to include:
Information/ text box
Name
Email
Question
Choice list
Dropdown list
Multiple choice list
Group Selection 
Post chat surveys can include:
Thank you message
Question
Message
Choice list
Dropdown
Multiple choice list
Chat rating
And, both include several pre-configured surveys that you can modify to better represent your business.
Canned Responses
You can utilize pre-made messages to save time for your agents. Canned responses can be used for anything from "It was nice talking to you. Have a great day, goodbye!" to "Our office is located at the corner of Grove and Main and our warehouse is open from 10-3 on Fridays."
Initially, you'll have eight pre-installed messages and shortcuts. They can be changed or deleted. You can add as many new ones as you would like. Additionally, if you have a Team, Business or Enterprise plan, you can create specific canned responses for each of your support groups – a great tool for marketing teams.
One cool feature is that any response given by your staff within an active chat can be quickly added to the library of canned responses.
It appears that every user can add and edit their own canned responses, see everyone else's and know when they were added. It also appears that any agent can edit or delete any canned response as well.
And, if you like the idea of canned responses, you're going to love their ChatBot app which can interact with customers by providing quick answers and assist in routing customers to the right agent.
Having a background in IT security, I do wish that LiveChat had made the ability to add, edit and delete canned responses (particularly delete responses created by others) a 'permission' that is granted; rather than something everyone can do. It would prevent accidental deletions and also help ensure that everyone was using the same wording for sensitive topics.
The Ticketing System
You can manage tickets generated by Facebook Messenger, emails, tickets created by customers visiting your site and agents creating tickets on behalf of customers from one place.
Site visitors will see the eye-catcher and greeting you wish while being invited to leave you a message if no agents are available.
Their ticketing system has quite a few nice features and might eliminate the need for subscribing to a separate help desk application.
Chat Window
Let's take a look at an active chat to see what support staff will see during a chat with a prospective customer.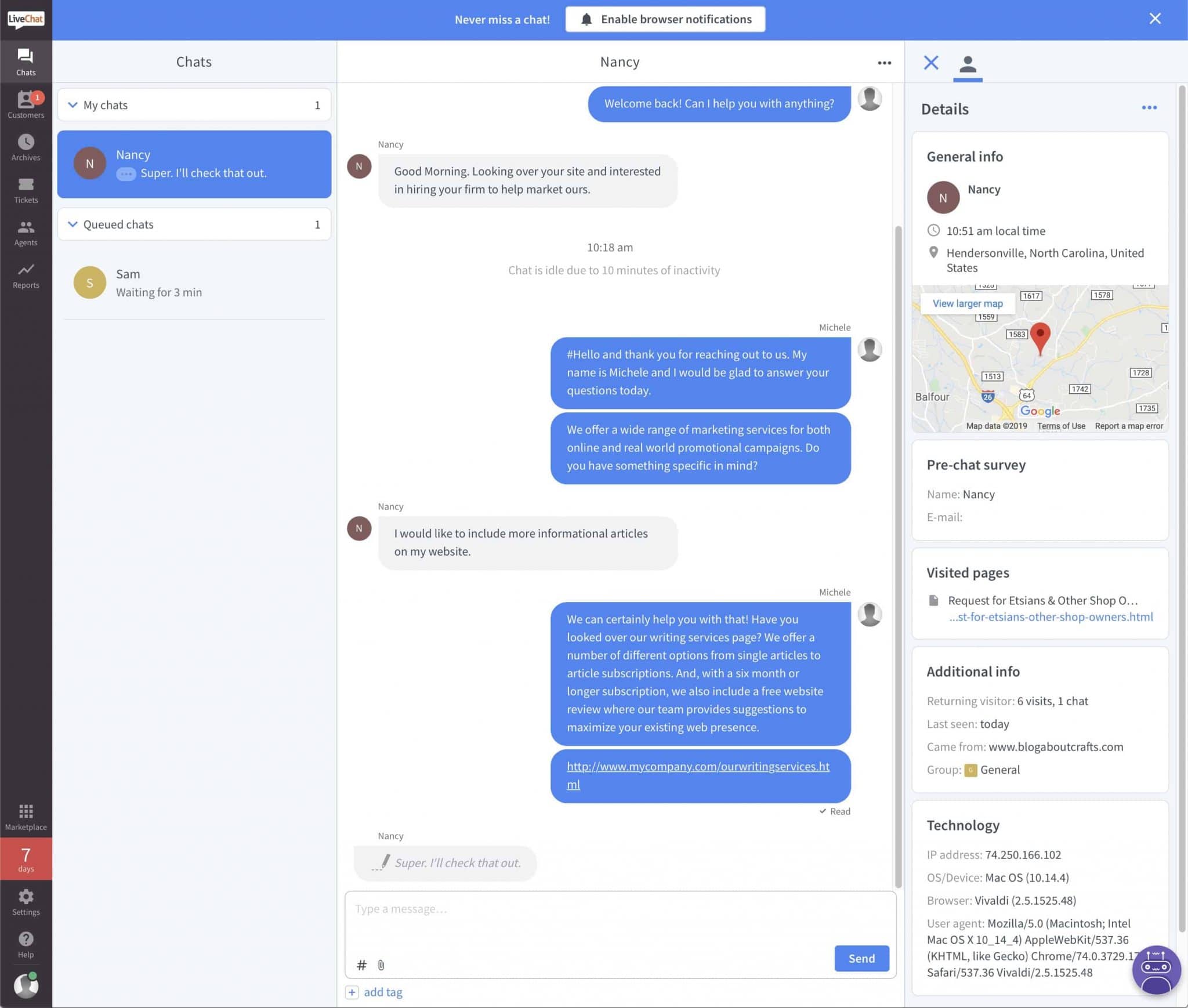 As you can see there's 3 panels with information about your prospect, right in the chat window. You'll know:
Where they are
What time it is where they are
What pages of your website they have viewed during this visit
How many times they've visited
How they were referred if coming from another website or search engine
What kind of equipment they are using, including the web browser, operating system and versions.
And, the info panel can easily be opened and closed to allow you to see more of the chat conversations.
By clicking on the # in the chat area, you can access the list of canned responses and pick the appropriate one or type the corresponding shortcode. In our case, we clicked on the # and chose one from the list. It will show a preview of the message so you can check it's the right one. Then you just click on it to fully select it and send it out.
With LiveChat, you can see what the visitor is typing as they type it and begin to prepare an answer. This is a cool feature but one that should be used carefully. We've all had chats with CSRs who clearly were responding to something we typed and deleted rather than the question that was actually sent.
Help & Support
We've all seen software and technology companies who brag about their wonderful support offerings. With LiveChat, they live up to those claims.
Support For Everyone on Your Team, Just a Click Away
Every member of your team has direct and immediate access to help; 24/7/365. You can directly contact LiveChat from right within the application via, what else? A chat.
LiveChat Tutorials
And, while many companies are embracing video tutorials, we find LiveChat's old-school written tutorials much more usable.
Rather than having to listen to a 5, 10, or even 30 minute video to glean that one piece of information you are looking for, you can quickly scroll through the tutorial to find your answers. They're full of screen shots, helpful tips and even ideas how to utilize LiveChat's features to enhance the customer experience and increase conversions.
If, however, you prefer video tutorials – they have those too!
And, both types of tutorials also share practical examples of how each feature can be applied within your business – rather than just showing how to change the settings.
Typing Test
The folks at LiveChat have even added a fun little extra to help maintain your typing skills. They have a 60 second typing test that can be accessed by every agent. It's a clever way to help you and your team gain speed and accuracy in their typing.
LiveChat Support Forums
We didn't find any unanswered questions on their forums and the answers were provided the same day (actual time isn't posted) and often included links to tutorials and explanations that actually answered the question.
And, you could spend days reading all of their resource articles on marketing, building websites, e-commerce and so much more.
Resources for Business Owners
Along with an extensive library of marketing and how-to articles, they offer courses. We signed up for their 5 day customer service course. Episode one explains how "customers are like teeth" and includes several quick tips on dealing with difficult customers with links to more detailed information.
While it's clear these resources are built to promote using LiveChat, they are full of great tips that can help any business; not just those using their software.
Active Product Development
LiveChat is clearly expanding how it integrates with other products as well as it's own add-ons. When we wrote this review, there were 138 apps to provide additional features and integrations with other business tools.
There's apps to make integrating LiveChat with WordPress, Joomla!, Drupal, GoDaddy, Squarespace and 19 other CMS platforms.
38 e-commerce related apps. And, among the integrations you might expect, like Zen Cart, Easy Digital Downloads, Google Adwords, WooCommerce and others; they have a clever one that detects UPS tracking numbers within a chat and shows their delivery statuses.
There's 9 email marketing apps to utilize tools such as MailChimp, Constant Contact and ActiveCampaign.
They have 12 apps to track your site analytics.
We think one of the most important apps available from LiveChat is their Knowledge Base plugin. It includes a web app for adding and managing help content and a widget that displays all of your articles in the sidebar in LiveChat with full search capability.
With Knowledge Base, you can build your FAQ, internal use only help documents as well as publicly available help documents.
Published in: eCommerce Solutions · Internet Marketing