What is the most affordable Mailchimp alternative in 2020?
For you as an online business owner it's not so easy to find the best email marketing platform. There are so many services and each of them has a different feature set and of course a different pricing. If someone asked me in the past which tool you should use to get started, my answer was often "Mailchimp".
The popular email marketing platform Mailchimp has a lot of features, is easy to use and most of all they offer a free plan for the first 2000 subscribers.
So why is it so difficult to choose a platform if there is a huge player with a free plan? Keep reading, I will tell you why I quit using Mailchimp and which tools I use instead!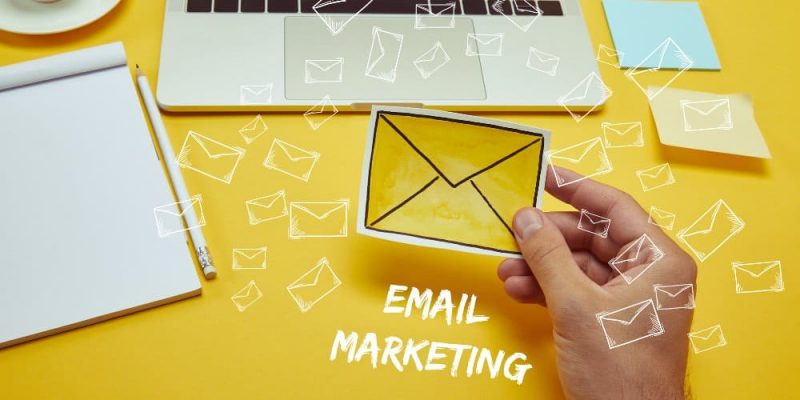 Why is Mailchimp not the right email marketing platform (anymore)?
Mailchimp is an email marketing platform with a great reputation and some nice tools. Like many other good products, Mailchimp has also a "higher" price. Sure the free version is for a lot of users "complete" enough to start, but what happens if the mailing list (audience) becomes bigger? The monthly costs for a bigger mailing list at Mailchimp was always more expensive than for most other services. You have to pay a high price just for saving your mailing list on the Mailchimp servers!
Besides the higher price, the user has faced earlier this year another disadvantage, they changed the rules or the feature set for the free plan. In the past it was possible to use many premium features in the free plan. Today you can't upload your own email templates anymore and the maximum number of mailing lists is set from many to ONE.
There are not only changes for the free version, there are several modifications which makes it less attractive to use Mailchimp these days. For example, you need to upgrade to the standard plan to make use of all automation features.
Most people (including me) don't need so much advanced features if they do email marketing. That's why I use for many cases a more simple tool for a much lower price. However, if you need more features, there are also much better Mailchimp Alternatives.
Most important features and requirements
Before we look for other platforms we need to check what kind of email marketing features we really need:
A template builder or templates gallery for quick and easy email creations.
Two features are important here: a powerful and user friendly drag & drop editor and a function to import your own HTML email templates.
No (hard) limit for the number of subscribers.
Actually none of the well known systems has really a subscriber limit, but it's important that you can keep a list inside the system database without paying a lot of money.
The possibility to choose Amazon SES as an email service provider.
Sending emails via Amazon SES is cheap, fast and reliable. Many professional email services are using the Amazon SES to deliver all their messages. So why using the email servers from some other party?
An API, WordPress plugins and integrations with other systems like Zapier.
To get more subscribers you need to integrate your email marketing system with your WordPress website and other applications. A strong integration via Zapier is an important requirement. The API is important to program functions which are not possible with the existing integration options. 
Automatic responders and "Drip" campaigns.
Beside regular email campaigns automatic campaigns and responders are important ingredients to grow your mailing list. 
As you might have noticed, this list of requirements doesn't include any fancy features like A/B testing. While our selected systems should offer at least some of them, we believe they are not a hard requirement. Check the MailChimp competitors we suggest in the later section.
What are the best Mailchimp alternatives?
Based on the requirements we found 3 Mailchimp competitors which offer almost every feature from our list: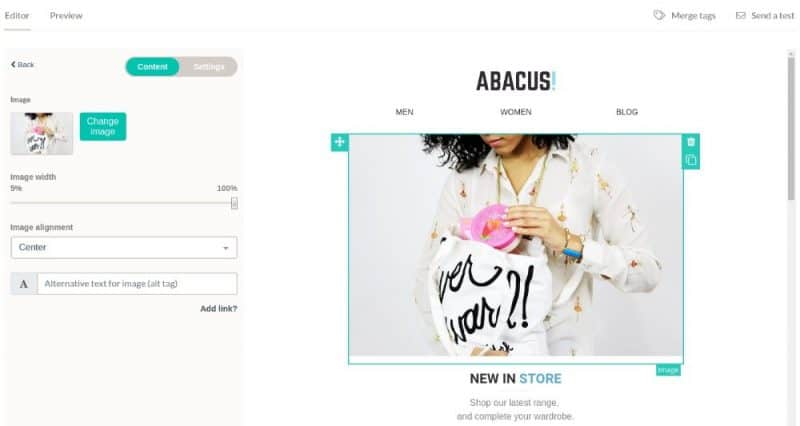 EmailOctopus – email marketing for less, via Amazon SES
The London based company was founded in 2014 and is a member of the AWS partner network. As an early adapter we like their services from the beginning. They started very early offering a functional plugin for WordPress and their free version is good enough for sending more than 50K of messages to 2500 subscribers!
Pros
Send 62.000 emails each month for free for both the Starter and Pro plan
Integration with Zapier, WordPress and many other platforms
Their premium templates support an easy to use drag & drop editor
Hosted and embedded forms to collect subscribers
Detailed reports with data export function 
Cons
Automated campaign triggers are only based on the subscription date
You need to pay more if your list becomes bigger
No options for A/B testing
While the API system has a lot of methods, there is no option to send an email via the API
You can't create segments in a mailing list
EmailOctopus is a great Mailchimp alternative to start your list or if you don't expect your list will become very huge. The system offers all important options and if your website is based on WordPress, there are several WordPress plugins which offer an integration for EmailOctopus. It's important to mention that their support team is very responsive, even if you use the free Starter plan.
Pepo Campaigns – Advanced Email Marketing for Amazon SES
I didn't know about Pepo Campaigns before I started my research for this article. Based on the features they offer, the system is very interesting if you're interested in automated email campaigns. Besides this, Pepo Campaigns is very cheap even for huge mailing lists! 
Pros
The price is based on the number of emails you send
Transactional emails, setup emails and send them via the API
Flexible list segments for your automated campaigns
User friendly drag & drop email builder
A/B testing for regular campaigns and transactional emails
Cons
Only one sending domain for the whole account
The available email templates have simple design
There is currently no WordPress plugin or integration for WordPress
There are no hosted or embedded subscribe forms
The website incl. documentation looks a bit outdated
If you look at Pepo Campaigns features list, the system might be the best. You can send your emails totally free if the limit of 10000 emails suits you. There is no limit for the number of subscribers, but you can configure only one sending domain name. A good tool for starting email marketing and if your budget is low.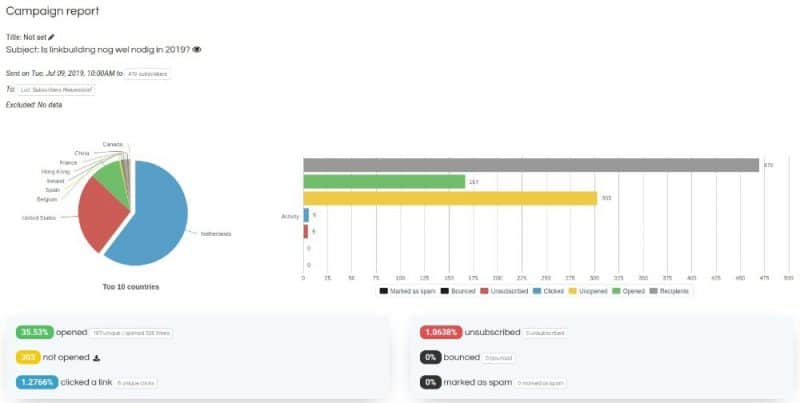 Sendy – Send newsletters, 100x cheaper via Amazon SES
Sendy is a popular self hosted application that runs on almost every web host. We have been using this Mailchimp alternative for several customers for a couple of years now. You can install this application for a one time fee on your own server or web host account.
Pros
Multi user interface, create white labelled accounts for your customers
Many integration options for WordPress, Zapier, Magento and others
Automated campaigns and auto responders
Powerful API for list and campaign management
No monthly fees (hosting charges might apply)
Cons
No drag & drop editor (we use Bee Free instead, we'll talk more about Bee Free in a moment)
No options for A/B testing
The segmentation feature is limited to regular campaigns
No automatic application updates
Automated campaign triggers are based on the subscription date
If you compare Sendy with the two other systems, you might think Sendy isn't the best option. However, it depends on what you need. Do you have multiple brands or even customers who need access to their internet marketing accounts? In that case Sendy is the best choice. A second reason to use Sendy, is the availability of integrations, including our own plugin Subscription Tools for Sendy.
Amazon SES pricing advantage – Pay only for the emails you really send
Mailchimp and many other email marketing services charge a monthly fee for "being" a customer. That will say, even if you don't send a single email your credit card will be charged. The Amazon SES pricing model is different, you only pay $0.1 for every 1,000 emails you send. If send your emails from an Amazon EC instance, the first 62000 emails each month are free. But the biggest advantage: there are no monthly costs if you don't send any emails.
What are the monthly costs for the 3 Mailchimp alternatives?
The price examples below are compared to the Mailchimp Essential plan. The features of the Essential plan are the best match for the 3 Mailchimp alternatives. All prices are in USD.
First case: Your mailing list has 2.500 subscribers
| Emails | Mailchimp | EmailOctopus | Pepo Campaigns | Sendy |
| --- | --- | --- | --- | --- |
| 10000 | 30.00 | 0.00 | 0.00 | 1.00 |
| 25000 | 30.00 | 0.00 | 9.00 | 2.50 |
| 50000 | 30.00 | 0.00 | 9.00 | 5.00 |
| 100000 | 30.00 | 3.80 | 12.80 | 10.00 |
Second case: Your mailing list has 10.000 subscribers
| Emails | Mailchimp | EmailOctopus | Pepo Campaigns | Sendy |
| --- | --- | --- | --- | --- |
| 10000 | 75.00 | 23.00 | 0.00 | 1.00 |
| 25000 | 75.00 | 23.00 | 9.00 | 2.50 |
| 50000 | 75.00 | 23.00 | 9.00 | 5.00 |
| 100000 | 75.00 | 26.80 | 12.80 | 10.00 |
Third case: Your mailing list has 25.000 subscribers
| Emails | Mailchimp | EmailOctopus | Pepo Campaigns | Sendy |
| --- | --- | --- | --- | --- |
| 10000 | 189.00 | 33.00 | 0.00 | 1.00 |
| 25000 | 189.00 | 33.00 | 9.00 | 2.50 |
| 50000 | 189.00 | 33.00 | 9.00 | 5.00 |
| 100000 | 189.00 | 36.80 | 12.80 | 10.00 |
EmailOctopus and Pepo Campaigns are both using an Amazon EC instance for the application. Based on the Amazon SES pricing model the first 62000 emails are free. That's why the price doesn't change for the 25000 and 50000 emails per month.
Which Mailchimp alternative should you use?
Since all Mailchimp alternatives are using Amazon SES, you only need to look for the price, features and the size of your future mailing list.  
Our Conclusion: Use Sendy
Sure there is one negative point if you go for Sendy: the email builder or editor. However, there is also a nice solution for this disadvantage. We use BEE free (or even better BEE Pro, if you need more features) to create all our email messages. If you choose Sendy you take control over data storage and hosting. With the cheap Amazon SES pricing model you will keep your costs at a minimum.
Tools you should use together with Sendy
Subscription tools for Sendy
To get the most out of WordPress and Sendy I developed a WordPress plugin that communicates with Sendy. The plugin has the following features:
Add a subscription form to (all) blog posts, using a widget and or using a shortcode.
Use the unsubscribe form right on your website and link this page from your campaigns in Sendy.
All forms are using the Ajax API from WordPress.
For Mailmunch users there is a function to create a better connection with Sendy (we include more data for the subscription)
Track submissions in Google Analytics and Clicky
Works with the privacy settings in WordPress and is compliant with the GDPR.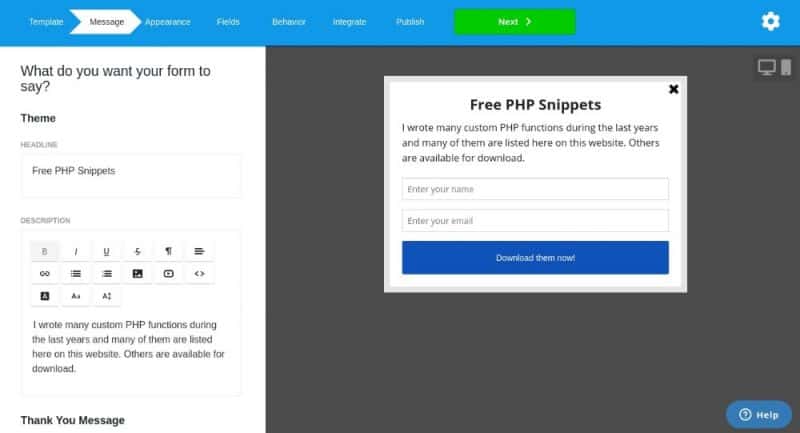 Mailmunch – Grow Your Email List
There are many plugins and tools to create subscription forms. Beside our own plugin for Sendy, we use Mailmunch to built opt-in forms. In the past we connected the forms with Mailchimp and now with Sendy. The best thing is that we don't need to rebuild all the forms we created for the mailing lists in Mailchimp. But Mailmunch offers much more:
Multiple types of opt-in forms: Popup, embedded, top bars, slide boxes and more.
Different triggers: Time based, based on scrolling activity, click based and "Exit intent".
Choose from different premium themes
Advanced display rules 
A/B testing, different integrations and more
Mailmunch is not only a tool to create opt-in forms. They offer also features like landing pages, auto responders and a newsletter feature. Some features require a premium account.
Click here to signup for a free account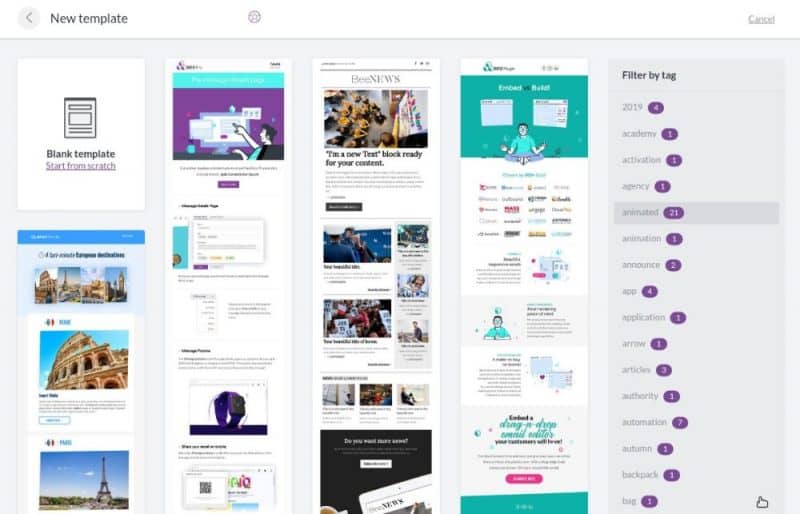 Bee Free – Build an email, free & fast
With Bee Free (and Pro) it's possible to create professional and mobile responsive emails. You can use these emails in different email marketing applications, Gmail and many other tools that support HTML email. With the free version you can create ONE email message that is saved in your browser. 
Choose from more than 50 premium themes or create your email using the drag & drop editor
All emails are optimized for different devices and email clients
Export your emails and import them directly in Sendy using the Bee Free Uploader for Sendy.
Click here to create your first email with Bee Free
Bonus: Best practices to reach the subscribers mailbox
Building and sending a newsletter is one thing, but how about open rates, clicks and conversions? Maintaining a successful newsletter is hard work and there is no guarantee that things from now will work in the future. The following tips should help:
Send relevant and useful information
Most of the time a newsletter is sent because the shop or company needs additional sales. Sure email marketing is an important sales channel, but the name "newsletter" describes it already, you need to tell something new or interesting. Provide some value for the newsletter reader.
Use compelling and relevant subjects
I know this tip isn't new, but it goes wrong with subjects all the time. Use a catching email subject and be sure that your email copy is related to the used subject. I often see emails that attract my attention but when I open it, I can't find any related information inside the email message.
Balance all used images and text in your email message
An image looks great in emails, but there might be a problem. The subscriber needs to allow the image download first before they become visible. Imagine your email has a huge image right is in the beginning. For many subscribers it will look like a broken or empty email. Always start your message with a short text and use compelling ALT tags for all your images.
Optimize your email message for mobile
Even if your email editor creates mobile responsive emails, it's still possible that they don't look good on a mobile phone. Double check every email: always use images that looks good on a small screen and don't write long paragraphs.  
Personalize your emails
Do you ask your subscribers for their name? If not, change your opt-in forms right now and use the names in any email you write. A personalized email looks more trustful and the subscriber will open that email more often than an email that is not personalized.
Start using Sendy in 5 easy steps
Want to start email marketing using Sendy right away? Follow the steps below…
1) Buy and install the Sendy application
Buy, download and install your copy of Sendy. On the Sendy website you can find a complete Startup Guide which covers the whole setup. The Sendy application can be installed on most web hosting accounts. If you have plans to grow very big, go for a small VPS, for example our favorite UpCloud.
2) Configure your Amazon SES account
If you have never used any Amazon web service, the setup looks a bit complicated. Luckily the Sendy Startup Guide has a well documented section about how to configure your Amazon SES account.
3) Create subscription forms on your website
Of course you need subscribers for your newsletter! Create some nice opt-ins for your website. Use our WordPress plugin for Sendy, Mailmunch or one of the other tools you've found on the Sendy website. 
4) Use Bee Free to build your email message
Choose a nice looking email template or build one of your own. Test any mail message on different devices (mobile phone, tablet) and check the test emails in different email clients.
5) Send relevant newsletters to subscribers
You're using email marketing to grow your customer base and sales, right? Don't use your mailing list only for your sales offers. It's not an advertisement! Instead create emails with valuable information and use relevant Call to Actions to lead readers to a separate commercial page.
That's all folks! If you have any questions, please post them below.
Published in: Internet Marketing