JustFit WordPress Theme, Beyond the Screenshots
Today is the first in what will hopefully be a series of reviews of some of the popular professional WordPress themes that have caught Olaf's attention. Neither of us are being compensated for these reviews nor are any of the links providing affiliate income. Our goal is to advance the conversation about what makes a great WordPress theme while sharing some of the outstanding professional WordPress themes available for sale. We'll be starting this series discussing the JustFit WordPress theme.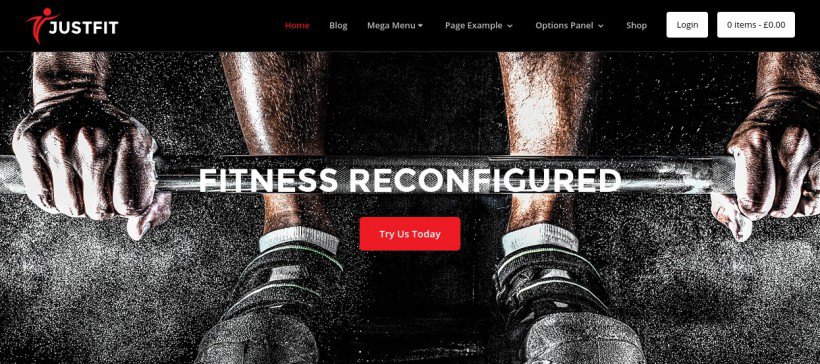 JustFit is a responsive, professional theme from the folks at MyThemeShop.com. MyThemeShop offers a number of free and paid themes. Paid themes, like JustFit, can be purchased individually or via yearly subscriptions which provide access to their entire library of themes and plugins. The license does not restrict theme use to a single installation.
Let's start with the top 15 features of this theme as identified by the developers.
Likable design
Fluid responsiveness
Drag and drop page builder
Speed optimized
Built-in slider
Adsense optimized
Parrallax scrolling
SEO mastered
Off canvas mobile menu
Awesome font icons
Clean Commented code
Social media buttons integrated
WooCommerce integrated
Video post section
Amazing options panel
Recommended/Required Plugins
The documentation suggests installing the MyThemeShop Connect plugin which allows you to install theme updates directly from your WP Dashboard. The also recommend installing the Force Regenerate Thumbnails plugin if JustFit is being installed on an existing site. MyThemeShop's WP Shortcode plugin is required to use their fairly extensive library of shortcodes.
The 10 Point JustFit WordPress Theme Review
| | | | |
| --- | --- | --- | --- |
| Child Theme | | Translation Ready | |
| Documentation & Support | | SEO | |
| WooCommerce Ready | | Frequent Updates | |
| Fully Responsive | | Working Contact Form | |
| Code Bloat | | Page Speed | |
Child Theme
The included functions work and you can create a child theme. The stylesheet gets loaded in the right place. However, you will need to create your own functions.php file to add any functionality like displaying category descriptions.
Translation Ready
We tested this theme using the Loco translate plugin. It translated 643 strings. A passing grade in our mind.
Documentation & Support
Across the board, the folks at MyThemeShop do a wonderful job at providing documentation. Upon purchasing JustFit, we received access to the theme-specific documentation. There are also 35 premium video tutorials and 13 free video tutorials available. They include tutorials on common functionality across all of their themes and a number of their plugins.
As a former technical writer, I hate to admit that most documentation I see is pretty poor. I've got to say that MyThemeShop does a wonderful job. Their documentation includes numerous screenshots, links to video tutorials and true step-by-step documentation.
Support via the forums seems to be fast and well-done. Even in the free areas, the support team provided custom code modifications to aid theme users. In some cases, they were even offering help and suggestions with plugins from other developers. When I visited the forums, I found only two unanswered posts and both were from that day. Virtually every other post ended with a successful conclusion or requests for additional information by the support staff going unanswered by the user.
SEO
A lot of WordPress themes, including many "professional themes" get an F- for SEO when it comes to their use of heading tags. The JustFit WordPress theme gets it almost just right but we did see one curious use of the H1 tag and a huge missed opportunity for bloggers who may use JustFit.
One H1 tag per page and they aren't used for the site name in the header. The only curious use of heading tags is surrounding the logo image with an H1 tag – the theme does not display the site name or site tagline on the homepage.
On of my pet peeves with many folks in the WordPress community is their general dismissal of category pages as having the potential to be great landing pages. We've talked about it before here on Web Development Blog (Turn WordPress Category Pages  into Landing Pages) and I'll just refer you to the earlier conversation rather than bring it up again. MyThemeShop does not display category descriptions and there appears to be no option built into the theme to add them. Additionally, if a category description is added, it will be used as the alt text on WordPress-generated linked category lists. Both things can be fairly easily changed but do require directly editing several of the template files.
WooCommerce Ready
The integration with WooCommerce is OK. We did find a small issue with the checkout button displayed on the catalog page not matching the checkout button on the product details page. The mini shopping cart in the menu looks very good.
Frequent Updates
We tested version 1.1.1. of the JustFit WordPress theme. Installation files did not come with a release history but it is available on their website. JustFit was released in May of 2015. Based on the file we reviewed, the developers seem to be continually improving this theme. Each update includes the date, the fixed items and a list of the effected files. Really like that they include the files list makes it much easier to protect customizations and otherwise troubleshoot.
Fully Responsive
On mobile devices, the mouse over effect on the blocks below the homepage slider image don't work. Too bad the developers of the JustFit WordPress theme didn't simply hide them from mobile phone users. Other than that, we found this theme looks great on mobile devices.
One area where a lot of so-called responsive themes break is how they handle images – primarily odd-sized or smaller images often being ported from an older theme. When these legacy images are added to sliders or used as featured images, the entire presentation of the website can be destroyed.
The JustFit WordPress theme does a wonderful job of handling legacy images.
Their built-in image slider adjusted easily to a teeny portrait image – they tiled it to fit the space. It created a central row of the full image with rows of partial images above and below. No matter how I resized the screen, a complete version of the image remained in the dead center of the screen.
Using a portrait-oriented featured image also did not alter the layout. The folks at MyThemeShop were prepared for that too. The image is nicely centered with an appropriate background color being used to fill the space on either side.
I also like that this theme does not automatically use the featured image at the top of the page or post it is associated with. Some themes I've worked with automatically place the featured image at the beginning of each post and don't offer a clean way to get rid of it. I think the site owner/designer should be able to place images within posts and pages as they see fit.
Working Contact Form or Easily Integrates with Contact Form 7
The included WordPress contact form is simple but okay. Using Contact Form 7 works okay too. However, we did find a bit of an odd bug. If the page slug is named "contact", the standard contact form is used all of the time even if there is a page template.
Code Bloat
The JustFit WordPress theme does not have an excess of code. However, it would be better if the custom style options were not included in the code if the default settings are used. Maybe they could make it an option to disable them. When we were testing, we had to use the !important option to style anything from your CSS file.
Page Speed
For this review and any other theme reviews we do here on Web Development Blog, we will be using Pingdom.com's Website Speed Test. Our test site was loaded with the sample data provided by MyThemeShop.com.

Published in: WordPress Development